Everybody needs a quick hair fix. Particularly on rushed mornings when putting your hair together seems like an impossible task. It can get pretty frustrating to do it all in a span of a few minutes, from taking a shower to drying your hair, getting dressed, having breakfast, and then making your hair look presentable. This is why we decided to share ten easy 5-minute hairstyle ideas for women so you won't ever have to be late to work or school again.
It will also help if you can get the best haircut services for your hair to make hair styling easier and better.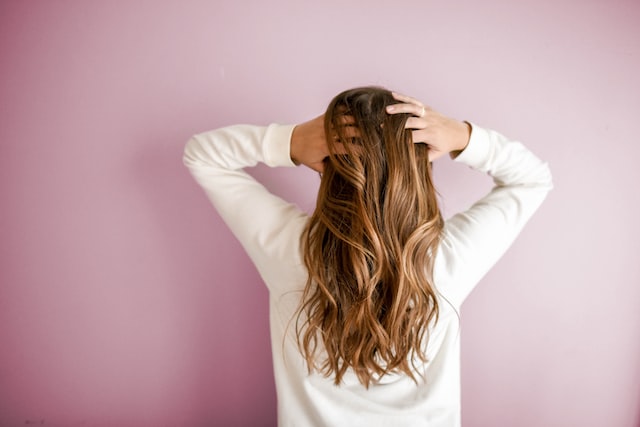 The Messy Bun
This has to be my favorite hairstyle. And it takes only under 5 minutes and works best on second-day hair!
One of my favorite hairstyle ideas is effortless chic, and almost anyone can pull it off. Try this simple messy bun the next time you're experiencing a terrible hair day.
Second-day hair is where you want to start if you want to achieve this style. A detangling brush or a wide-tooth comb should be used to remove tangles. To revitalize and create volume, add a splash of dry shampoo to the roots and a drop of oil to the ends.
Put your hair up in a high pony, then use a hooked elastic to hold it in place. You don't have to comb your hair for this; simply let it hang loose and be rough where it needs to be.
Twisted Side Bun
This is perfect for those mornings you don't have time to dry your hair after a shower. While it looks beautiful on dry hair, it works great on wet hair too.
The Headband Bun
Incorporating a head scarf or headband into your hairstyle is a great way to spice it up and add a nice pop of color. Since there are no pins or elastics required, this one is also quite simple to pull off. Just twist and tuck the hair into the back of the elastic of the headband!
Twisted Tie Back
Starting at the middle of your forehead, divide your hair. Use bobby pins to fix the right section as you twist it back towards your forehead. For the left section, repeat the process.
Simple Tie Back
Part your hair in the middle of your forehead and gently clip the strands at the back of the head. Spice it up by using funky hair clips.
Braided Upside-Down Bun
Why not give your top knot a little extra flair to really stand out in a crowd instead of just wearing it as is? The upside-down plait at the back of the head effortlessly adds a hint of drama to an otherwise straightforward ensemble.
Looped and Twisted Side Ponytail
This creative side ponytail has a complicated-yet-simple appearance. All you have to do is pull all your hair to one side and secure it in a ponytail. Then make a space right above the hair tie and push your hair through it, creating a twisted loop effect. Keep securing the ponytail as you do down the length of your hair, repeating the twist and looping process. This will create a beautiful hairstyle that is very simple to achieve.
Rope Twist
This hairstyle just rocks from preschool years all through college and then for work. This hairstyle is super simple, quick, and looks great. This is a simple method to step up your ponytails and braids if you're tired of the usual styles. And if you don't have much time to transition from night to day, just twist everything into a bun.
Low Messy Bun
For the low messy bun, separate your hair from the center and tie it in a low ponytail around the same place where your ears are. Then separate the pony into two parts and overlap them until you reach the end. Sweep all the hair up and secure it in place with bobby pins. Grab a silk hair wrap in some pastel spring hues and tie it around your head for a chic, attractive finish if you want to add a color accent or structure to this messy bun. A wrap made of dark leather is also perfect for a night out.
Tame any unwanted frizz by using a hairspray and makeup brush.
Middle Part and Top Knot
Leave two thick sections of hair in the front of your face to frame it, and pull the rest of the hair back into a ponytail. Make sure you secure them in a high ponytail using your cheekbones as a guideline. Secure using a bungee or elastic.
Create a bun by wrapping the ponytail around and pinning it. Then, take the two thick locks of hair and loosely pull them so you are able to pin them underneath the bottom of your pony. You can leave these strands down if you prefer, or you can pull them back more tightly. Just keep in mind that it's OK if there seem to be bumped because the messy bun style doesn't call for a smooth appearance.
You can also curl those strands in front for a more formal look.
Wrap Up
That brings us to the end of our ten easy 5-min hairstyle ideas for women. These simple, practical, everyday hairstyles will make sure you are not late to work, school, or any other commitments. You can change these hairstyles up and take them up a notch by adding hair accessories and sport them for special occasions and parties as well.
Let us know in the comments of some more easy 5-min hairstyle ideas that you would like to share with us too!
To make your hair more manageable, get the best haircut services at Beauty Lounge and always wake up ready to conquer the day!