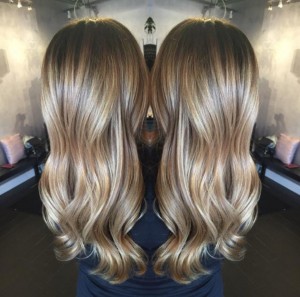 As summer comes to an end, and fall approaches, new hair styles, colors, and trends are taking over.  What new hair trends can we expect for fall of 2016? We can't wait to share them with you…
Smoky Lilac
There's a beautiful new color trending this fall for all hombre lovers who love the more bold color trends.  The smoky lilac style transitions from a deep grayish purple to a more pale lavender and looks especially amazing on long hair.
Flamboyage
Flamboyage is a gorgeous and fun hairstyle making the top trending list this fall.   This style is a combination of the popular ombre and balayage hairstyles and leaves the hair looking bright, yet natural.
Nude Hair
Nude hair is exactly as it sounds.  It's a perfect balance of warm and cool tones, which creates a rather neutral color that's hot to trot this fall.  This is a look that is flattering on all skin tones.
Snowlights
No one's ready for winter, but bring on the Snowlights! These shimmering pale blonde highlights are sprinkled throughout the top of the head, leaving you with a sparkling, snowy-like look.
Rose Gold
This one might be at the top of the trending list this fall.  Rose gold hair is a pretty pink-tinted blonde that looks absolutely radiant and gorgeous.  It's flattering on all skin tones and can leave your face glowing, even when you're not wearing makeup! Even celebrities are going crazy for this new look!
Cinnamon Swirl Hair
Who doesn't want a hair style that looks and sounds delicious?  Similar to the "bronde," this trending look is achieved with a non-blended mix of light and dark brown and blonde shades.  It makes the brighter pieces pop and looks more dimensional.
Deliberate Roots
This hairstyle trend is exactly what it sounds like! For those who tend to let their roots grow a little longer than normal, this might be the perfect look for you.  With a darker semi-permanent color at the roots and a lighter color on the ends, those roots will deliberately keep you looking good until your next visit to the salon.
These are just some of the hottest fall color trends you can expect to see this year.  Give us a call today at (401) 349-3399 to make an appointment, and we'll help you choose the one that works best for you!